3rd Grade
Daniela Vivas, Olivia Pena, Gabriel Mata, Sophia Cueto
4rd Grade
Michael López, Giovanni Fiallo, Ana Noguera, Ricky González, Sebastián Fernández, Hailey Martínez, Camila Gil, Angela Bonne
5th Grade
Giselle Salmerón, Julieta Infante, Stephanie Matos, Elizabeth Márquez, Carlos Gutiérrez, Genesis Lagos, Jasmine Dorta, Yimi Rodríguez
6Th Grade
Iván Alvarado, Marcelo Fazio, Gabriella Medero, Camila Bonne
7th Grade
Gabriela Amadeo, Daniel Infante, Daniels Valdez, Ryutaru Quineche, Kyana González, Henry González, Katherine Dorta, Isabela Méndez, Alexander Delgado, Darwin Escobar, Luciana Peraza
8th Grade
Eduardo Infante, Sabrina Fernández, Gabriella Costa, Isabella Costa, Madelyn Pérez, Roy Justiniani, Lindsey Turcios, Mónica Diaz, Michelle Ayala, Julio Salcedo, María Del Valle, Nadesha Almonte, Bryan Arditti, Nathalie Sánchez, Roland Fernández, Tomas Quintero, Natalia Gómez, Katerin Castro.
Mission Statement
St. Michael's Mission Club is proud of doing God's work.
We value and cherish others by showing them love and kindness.
We give of our time, talent and treasures to better the lives of those in need. We project our happiness with love to our community by feeding and giving unconditional love.
"We cannot all do great things. But we can do small things with great love"
Mother Teresa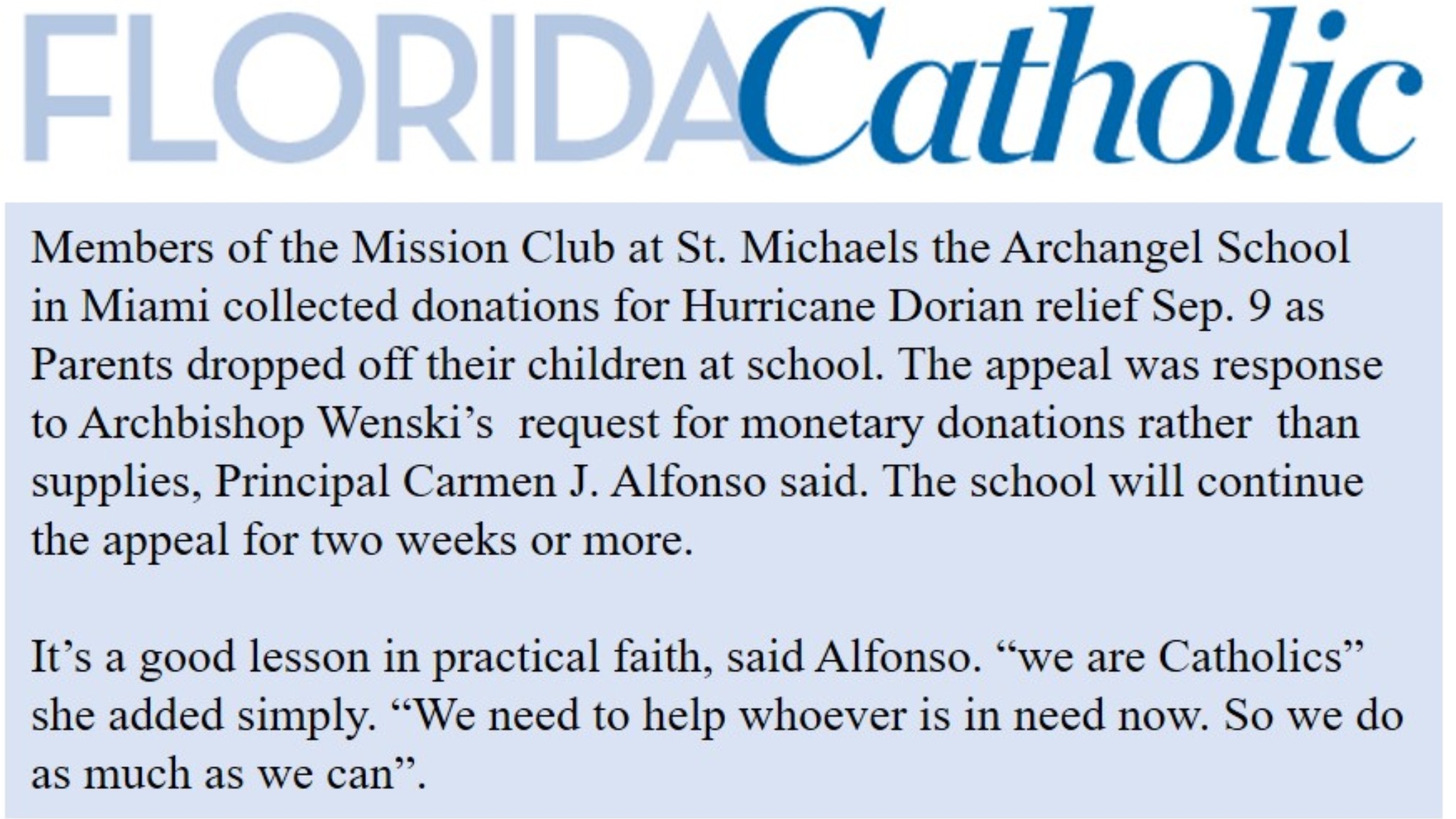 The Mission Club collects canned food every month to deliver to needy families in the community.
Chef Boyardee
Peanut Butter
Canned Meat
Canned beans
Canned Vegetables
Canned Fruits